The Mecca Center and the Mecca MVMT thank you for attending the Celebration of the Arts event held last Saturday, April 28. The event aimed to bridge the gap between faith and art with an impressive showcase of visual and performing arts by local Muslim artists.
The banquet hall was buzzing as dozens of artists showcased their work for the Mecca Center community. From calligraphy to woodworking, paintings, and henna, the richly diverse curation of art spotlighted creatively talented people in the Muslim community. Some of the artists included the Young Artists Club, Leen Homsi Fashion Design, Amer Sassila, Sabascript Calligraphy, Watan Studio, Samia and Nowel Douedari, Afroz Home Decor, Muhammad Akhtar, Dalia Abdelaziz, Dania Daoud, Ibaadeh by Zohra, and Bahar Azarmizad.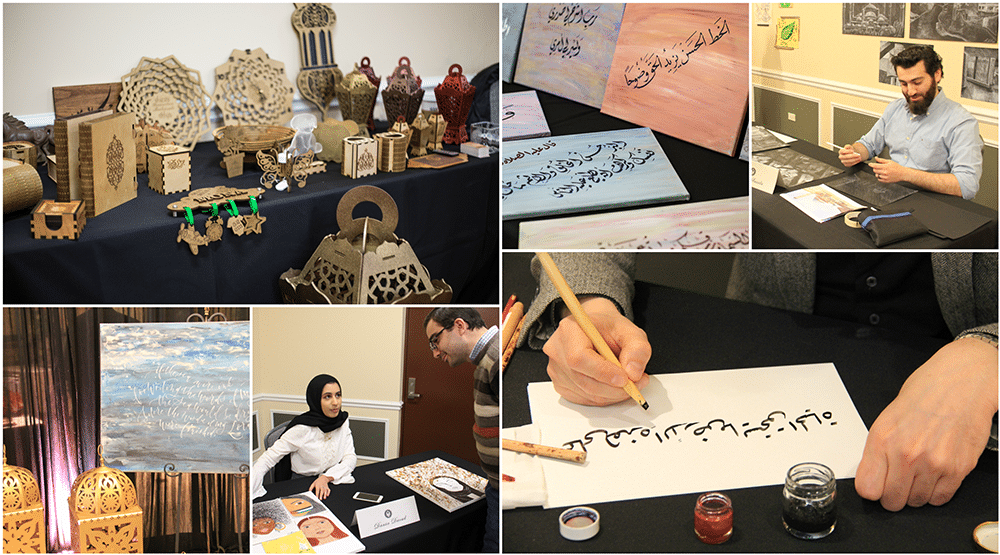 In the gym, the stage was set for a lineup of performing artists including poets, singers, rappers, a comedian, and special guest, Amir Sulaiman. The performances by Sulaiman, Nameless, Shai Tany, Bader Abdelhadi, Kareem Ibrahim, Ayah Chehade, and Yara Daoud invigorated the packed house and resonated deeply with the youth. The artists made an immediate connection with the audience by tapping into the experiences and feelings of youth.
The Mecca Center is proud to serve as a platform for our community to share their talents and contribute to the rich culture of Islam. We extend our sincere thanks and appreciation to all the artists and performers for sharing their work with our community and look forward to future opportunities to showcase their talents.