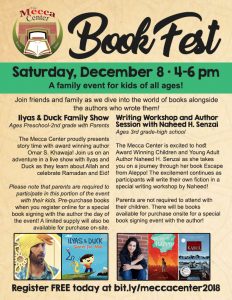 The Mecca Center invites you to our Book Fest on Saturday, December 8 starting at 4pm. This is a family event for kids and parents!
Join friends and family as we dive into the world of books alongside the authors who wrote them.
Register FREE today at bit.ly/meccacenter2018
Ilyas & Duck Family Show Ages Preschool-2nd grade with Parents
The Mecca Center proudly presents story time with award winning author Omar S. Khawaja! Join us on an adventure in a live show with Ilyas and Duck as they learn about Allah and celebrate Ramadan and Eid! Please note that parents are required to participate in this portion of the event with their kids. Pre-purchase books when you register online for a special book signing with the author the day of the event! A limited supply will also be available for purchase on-site.
Writing Workshop and Author Session with Naheed H. Senzai Ages 3rd grade-high school
The Mecca Center is excited to host Award Winning Children and Young Adult Author Naheed H. Senzai as she takes you on a journey through her book Escape from Aleppo! The excitement continues as participants will write their own fiction in a special writing workshop by Naheed! Parents are not required to attend with their children. There will be books available for purchase onsite for a special book signing event with the author!
---
Democracy & the Middle East: The future of American Foreign Policy in the Muslim World with Dr. Farid Senzai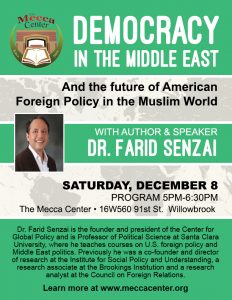 From 5pm-6:30pm, the Mecca Center invites adults to a lecture and discussion with author and speaker, Dr. Farid Senzai, who will share about American foreign policy in the Muslim world.
Dr. Farid Senzai is the founder and president of the Center for Global Policy and is Professor of Political Science at Santa Clara University, where he teaches courses on U.S. foreign policy and Middle East politics. Previously he was a co-founder and director of research at the Institute for Social Policy and Understanding, a research associate at the Brookings Institution and a research analyst at the Council on Foreign Relations.